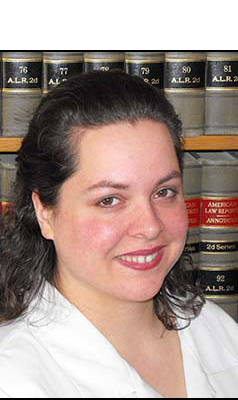 Jodi J. Doak
General Practice
EXPERIENCE & EDUCATION;
Mrs. Doak graduated from Thomas Cooley Law School in 2001 as the most decorated student in the school's history, tying for 5th highest GPA in the schools history. She was awarded the designation "Summa Cum Laude" student (highest GPA in her class which started with over 500 students). Mrs. Doak received multiple awards, including 11 of the coveted "book awards" also called certificates of merit, representing the top grade in 11 courses. She describes her time in law school as one of the most fulfilling and challenging experiences of her life.
Ms. Doak graduated from Palm Beach Atlantic's special Supper Honor's Program Magna Cum Laude, which she credits with much of her later success in law school. She has a Bachelor of Arts in English and History.
Mrs. Doak loved moving into her practice which was more rewarding, as she loves to help real people and solve real problems. In November of 2003, the Emmet County Circuit Court swore her in, and she then established the Doak Law Firm, PC, being the first female attorney to open an office in Boyne City, Michigan.
For a short time (about a year), Mrs. Doak worked part time for the Schraw & Associates, PC, where she worked with attorney Thomas Schraw. While there and while working for the Doak Law Firm for the last 13 years, she has actively handled cases in the areas of Custody, Child Support, and Family Law, Business, Criminal Defense and Personal Injury.
Mrs. Doak also served as the Special Prosecutor for the Little Traverse Bay Bands of Odawa Indians from 2012-2014.
COMMUNICATION:
Mrs. Doak stresses the importance of communication. She makes her cell phone available to her clients and returns all calls within 24 hours. She also communicates through email and mail. Every case is the client's case and the client needs information to make informed decisions. To facilitate communication, the Doak Law Firm now also provides the option of an on-line access to client documents and case information through an individual client portal. Forgot your court date? Log into your portal and check your trial calendar. Misplaced that important document? Log on and download it.
NATURAL TALENT, PERSONALITY & PASSION:
Mrs. Doak has a passion for her clients and a deep commitment to her clients and resolving their legal issues in the best way possible. Mrs. Doak has been married for 16 years and has 2 children, who are 13 and 2 years old.
As client's have continued to refer people to Ms. Doak, her time has become in high demand. Those referrals are truly the highest compliment. To really know your lawyer, you should meet before you make a decision. You need to be comfortable with your lawyer. If you would like to meet with Mrs. Doak get to know her, and speak with her regarding your case, call the firm and she will call you to speak with you and get you a free ½ hour appointment time. Her number is (231) 675-0648. You can also call the office and speak to her assistant Steve at (231) 582-0712.
AWARDS & ACTIVITIES
1998 – 2001 Thomas M. Cooley Law School, Juris Doctor, Summa Cum Laude
James E. Burns Memorial Award
Shane Joesph Johnson Award
Raymond Burr Award in Criminal Law
11 Book Awards (highest grade in section) in Torts I & II (personal injury), Contracts II, Constitutional Law I & II, Property I & II, Civil Procedure I, Family Law, Research & Writing, Criminal Law
1994 – 1997 Palm Beach Atlantic College, Bachelor of Arts
Magna Cum Laude
Supper Honors Scholar
Features Editor, Newspaper
Forensics Senior of the Year
Admitted: State Bar of Michigan, November 2002
FURTHER EDUCATION:
Domestic & Civil Mediator, 40 hour and 44 hour Mediation training SCAO
Continuing Legal Education through the Institute of Continuing Legal Education and Criminal Defense Attorneys of Michigan (CDAM)
LEADERSHIP:
Charlevoix-Emmet Bar Association, Secretary 2008,
Charlevoix-Emmet Bar Association, Vice President 2009,
Charlevoix Emmet Bar Association President 2010.